Turn Your Home Smart With Existing Wiring
Ever thought of turning your home into a smarthome using existing wiring? Swidget, a smart modular electrical outlet, can do this by replacing a traditional electricity outlet! Swidget has launched on Kickstarter in July this year. It consists of a Swidget Outlet and "snap in" inserts. Users can swap in different inserts to add smart functionality to the electrical wall-outlets. These inserts can be controlled via Swidget's smartphone/tablet app. Swidget is suitable for smart home products like thermostats, security alarms, motion sensors, security camera, gas sensors, Bluetooth speaker and temperature sensors. So, users don't need multiple smart home electrical outlets to control different products. More details.
---
Safeguard Your Connected Products With Turnkey Security!
Maxim's new cryptographic controller which makes it fast and easy to implement full security for embedded, connected products without requiring firmware development. The MAXQ1061, now available from Mouser, enables engineers to add an extra layer of protection to Industrial Internet of Things (IIoT), smart metering, network appliances and other connected embedded systems. More details.
---
WLAN Access Point Supports IIoT, IoT & Industry 4.0 
An innovative and cost-effective Industrial Ethernet access point from Phoenix Contact is now available from RS Components. Offering quick and easy installation, the new WLAN1100 wireless LAN module is ideal for use with machinery, mobile vehicles and control cabinets. It helps to link smart devices to machines across an array of applications such as machine building, industrial automation, maintenance engineering, Industrial IoT and Industry 4.0. More details.
---
A Low-cost LoRaWAN Gateway For IoT
Semtech said that its LoRa technology has been utilised in a low cost, easily deployable LoRaWAN gateway from Wifx. The new LORIX One gateway offers long-range, low-power capabilities for IoT applications in any environment including smart cities, smart building, smart agriculture, smart supply chain and logistics, and smart metering. More details.
---
Vertical Farming Blossoms With IoT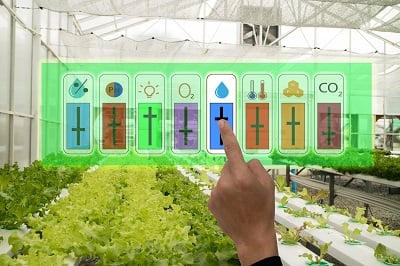 Mouser has released a video in the 'Shaping Smarter Cities' series exploring the developments in vertical farming and the benefits the technology can provide, such as shorter transportation distances from farm to market and the minimized use of pesticides. This would help smart cities meet the challenge of feeding their growing populations. To achieve this challenge, the technique requires precise control of light, temperature, water, and nutrients, and involves a wide range of IoT technologies, sensors, robotics, and data analysis. An EBook, entitled "Vertical Farming" explains all this. Click here to view the video. For full Press release, click here.
---
Intel Rolling Out Test Fleet Of 100 Fully Autonomous Vehicles
Intel is making aggressive moves in the emerging self-driving market. After it acquired Mobileye, the firm said it will start building a fleet of fully autonomous (level 4 SAE) vehicles for testing in the United States, Israel and Europe. The announcement said that first vehicles will hit the roads later this year, and the firm will eventually build more than 100 test vehicles including different vehicle brands and types. Intel's spokesperson noted: "The goal is to develop autonomous vehicle technology that can be deployed anywhere, which means we need to test and train the vehicles in varying locations, diverse driving styles as well as different road conditions and signage." More details.
---
"IoT & Industrial Control System Softwares Are Most Insecure", Fuzzing Report Says
Synopsys reports deep analysis on potential zero-day exploits in the open source protocols and common file formats used across six industries, in a recent fuzz testing report. The industries include automotive, financial services, government, healthcare, industrial control systems, and Internet of Things (IoT). More than 4.8 billion fuzz tests were conducted by Synopsys' customers in 2016 using the Defensics Fuzz Testing solution which helps organizations find vulnerabilities in softwares to protect them. The results identified 6.6 seconds as the average time to first failure for the least mature protocol. More details.
---
Connected Cars Become More Secure With Industry-to-Industry Collaboration
Towards improving cybersecurity in connected vehicles, Alliance for Telecommunications Industry Solutions (ATIS) has published a report according to which connected vehicle's potential will be maximised by promoting collaboration between the communications sector and the automobile industry. The whitepaper says that ICT companies and connected vehicle manufacturers can work together to secure the network and block cyber attacks or malware events. Also included in the report is a detailed overview of the types of cybersecurity risks and threats facing connected vehicles, and how telecommunications carriers can prevent them by controlling and securing the networks on which they operate. More details.
---
Blackberry Sets Its Sight On IoT
BlackBerry is hoping to become the main supplier of secure applications and software for the next generation of IoT devices — from internet-connected self-driving cars to smart home appliances. A statement from the firm's CEO explains, "We want to be the number one secure communications in IoT. We have signed a deal with Ford for seven years to help them build their next generation cars."
---