Cities around the world are using the IoT to map air quality in order to minimise the impacts of pollution and ensure clean air. Bosch is helping to mitigate air pollution with an innovative solution which taps the strength of intelligent data to manage air quality. GE is offering its Predix-based IoT software which is hoped to reduce power outages and improve the reliability of the electricity supply to consumers, while a new Bluetooth module from Panasonic claims a record low peak power consumption of 3.3mA in receive or transmit mode for IoT applications.
---
Smart Cities Take Action on Air Pollution
Bosch plans to demonstrate its cost-effective 'Air Quality Micro Climate Monitoring System (MCMS), at Smart cities week 2017. The demo will show live data from Phoenix as well as other cities around the world. The cost-effective monitoring system can rapidly and accurately measure and manage optimal air quality. The device can provide intelligent data, real-time analysis of air pollution and is designed to withstand rugged weather conditions.
---
Reducing Power Outages Worldwide With Large-Scale Industrial IoT Implementation
Bringing the strength of the Industrial IoT to power producers and utilities around the world, GE Digital announced that its Predix Asset Performance Management software will be used to power its monitoring and diagnostic center, which tracks the health of more than 500 power plants serving more than 350 million people around the world. APM is powered by Predix, GE Digital's platform for the Industrial Internet. Running the APM solution will help further prevent power outages by increasing the reliability of the thousands of power producing turbines and generators monitored by the center. Read more.
---
Bluetooth 4.2 Module Works On 3.3mA In TX/RX Mode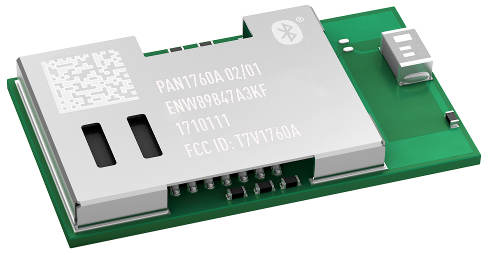 Panasonic's latest surface-mount module Bluetooth module, measuring 15.6 x 8.7 x 1.9mm, claims a record low peak power consumption of 3.3mA in receive or transmit mode. With mandatory and optional Bluetooth 4.2 features, the PAN1760A module is intended to add wireless function to IoT, medical and industrial applications. The module features Toshiba's TC35678 Bluetooth chip with embedded Toshiba Bluetooth 4.2 LE stack and embedded flash for user applications in stand-alone operation. Read more. 
---